"Music for Ballet Pointe Class (All Levels)" by Søren Bebe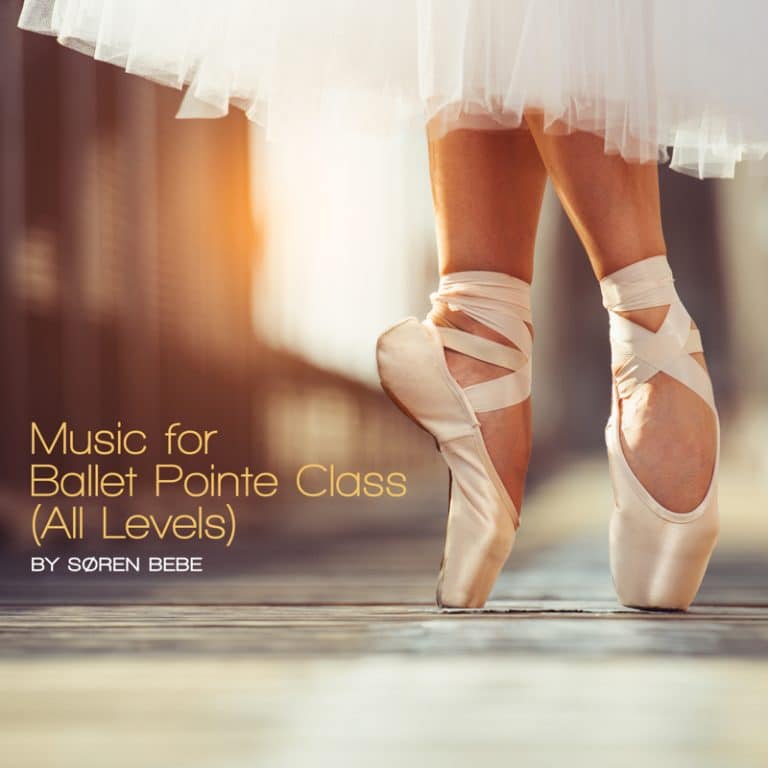 Why not share this album with your friends?
"Music for Ballet pointe Class (All Levels)" is the first album from composer and pianist Søren Bebe with music composed especially for ballet pointe classes.
The album is made in collaboration with ballet teacher Ashley Groth and includes music for a complete pointe ballet class. There's 38 songs on the album and you'll find music suitable for all levels of dancers from beginners to professionals.
Barre
01 Articulation: Prances and Doming, 4/4, 64 counts, 2:19
02 Plié, 3/4, 64 counts, 2:08
03 Tendu & Dégagé (Battement jeté), 4/4, 64 counts, 1:17
04 Relevé/Elevé 1, 3/4, 64 counts, 1:59
05 Relevé/Elevé 2 (Tango), 4/4, 64 counts, 1:15
06 Sous-sus (5th Position relevé, Springs), 6/8, 64 counts, 1:12
07 Échappé 1 (Tango), 4/4, 128 counts, 2:21
08 Échappé 1 (Faster), 4/4, 128 counts, 2:10
09 Pas de bourrée, 4/4, 64 counts, 1:11
10 Retiré/Passé 1, 3/4, 64 counts, 1:56
11 Retiré/Passé 2, 2/4, 64 counts, 1:14
12 Fondu/Rond de jambe, 3/4, 64 counts, 2:02
13 Piqué, 4/4, 64 counts, 1:52
14 Ballonné/Rond de jambe en l'air, 4/4, 64 counts, 2:22
15 Petit battement/Bourrée, 4/4, 64 counts, 1:11
16 Petit battement/Bourrée (Faster), 4/4, 64 counts, 0:57
17 Développé, 3/4, 64 counts, 2:15
18 Grand battement (Polonaise), 3/4, 32 counts, 1:03
19 Preparation for hops (Sautés en pointe preparation), 3/4, 32 counts, 1:09
Center
 20 Adagio, 3/4, 64 counts, 2:04
21 Tendu/Soutenu, 4/4, 64 counts, 1:09
22 Échappé 2, 4/4, 64 counts, 1:14
23 Échappé 2 (Faster), 4/4, 64 counts, 1:00
24 Petit allegro 1 (Sous-sus/Changement), 2/4, 128 counts, 1:32
25 Petit allegro 2 (Petit jeté/Emboîté/Assemblé), 4/4, 128 counts, 1:26
26 Medium allegro (Ballonné), 4/4, 64 counts, 1:15
27 Walks en pointe (Pas marché), 3/4, 64 counts, 2:13
28 Bourrée (Pas de bourrée suivi/couru), 4/4, 64 counts, 0:53
29 Pirouette preparation, 4/4, 64 counts, 1:25
30 Pirouettes 1 (Tango), 4/4, 128 counts, 2:35
31 Pirouettes 2 (Waltz), 3/4, 128 counts, 1:59
32 En diagonale 1 (Piqué & Développé), 4/4, 32 counts, 1:11
33 En diagonale 2 (Chaînés & Piqué/Emboîté en tournant), 2/4, 128 counts, 2:04
34 Hops en pointe 1 (Ballonné relevé), 3/4, 64 counts, 1:43
35 Hops en pointe 2 (Sautés en pointe), 6/8, 80 counts, 1:30
36 Coda 1, 4/4, 128 counts, 1:46
37 Coda 2, 4/4, 64 counts, 1:12
38 Reverence, 4/4, 32 counts, 1:00