"Jazz Music for Ballet Class - The Songs of George Gershwin" by Søren Bebe Jazz Trio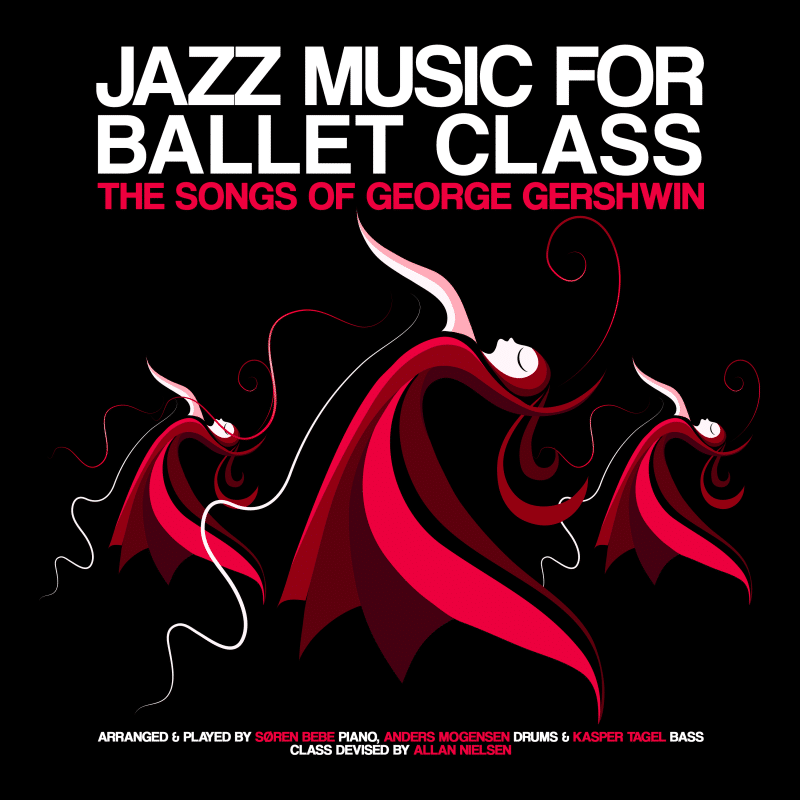 Why not share this album with your friends?
"Jazz Music for Ballet Class – The Music of George Gershwin" is arranged & played by Søren Bebe (piano), Anders Mogensen (drums) & Kasper Tagel (bass).
Class devised by Allan Nielsen
"Jazz Music for Ballet Class – the Songs of George Gershwin" covers a full ballet class with themes by the legendary composer George Gershwin.
This time however, as well as the piano it features a drummer and a bass player on all tracks! Have you ever heard a ballet class album like this before?
Unfortunately this album is not available on iTunes/Apple Music but you can buy the CD as well as a digital mp3 download on this site.
The CD comes with an immediate free digital mp3 download of the album as well.
It's also available on other streaming platforms like Spotify, Deezer and Amazon.
The musicians playing on this album are top of the top, world class, and world touring jazz musicians and it's our dream that this unusual (for a ballet class album) orchestration will bring a burst of energy, creativity and joy into your ballet studio, or home, or wherever you'll be listening to this music. We certainly had a lot of fun creating it for you!
Here's Alessia Lugoboni from Lazy Dancer Tips using three songs from the album in one of her popular online training videos:
CD track list:
BARRE EXERCISES:
Embraceable You (Plié with Port de Bras) 32 + 16 counts and repeated
They Can't Take That Away From Me (Tendu) 64 + 8 counts and repeated
Let's Call the Whole Thing Off (Jeté Ballonné) 64 counts
Oh, Lady Be Good (Jeté ) 128 counts
Oh, Lady Be Good (Jeté, with a few breaks) 128 counts
Oh, Lady Be Good (Jeté, with a rhythmic challenge) 64 counts
Someone To Watch Over Me (Rond de Jambe/Adagio) 64 counts
A Foggy Day (Fondu) 64 + 8 counts and repeated
'S Wonderful (Frappé) 64 + 16 counts and repeated
Nice Work If You Can Get It (Grand Battement) 64 counts
CENTER EXERCISES:
Summertime (Tendu) 128 + 16 + 128 counts
I Loves You Porgy (Adagio) 128 + 16 + 128 counts
It Ain't Necessarily So (Pirouettes – waltz) 184 counts
Who Cares (Petit Allegro) 256 counts
I Got Rhythm (Medium Allegro) 256 counts
Our Love is Here to Stay (Grand Allegro) 256 counts
The Man I Love (Coda) 384 counts
How Long Has This Been Going On (Reverence) 64 counts